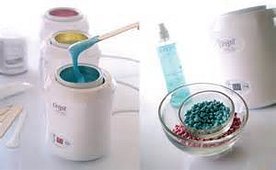 PERON RIGOT
In 1936, French pharmacists, Messieurs Perron and Rigot, founded a laboratory under their names to manufacture cosmetic products. Perron Rigot depilatory waxes are now used by beauty practitioners and salons the world over.
With 30 years of innovation and more than 20 patents behind them, Perron Rigot is constantly developing new formulas. The company holds the patent on formulas for low-temperature waxes and is the inventor of no-strip disposable wax.
Depilatory Waxing: A Natural Process
Depilatory waxing is a natural technique for epilation that respects the skin and produces the best possible results.
Depilatory waxing is non-chemical, and thus is not aggressive to the epidermis. Since it is non-mechanical, depilatory waxing adapts to all parts of the body and face and to all anatomies.
Depilatory waxing removes the entire hair with its root; it leaves the skin perfectly smooth and soft. Practiced regularly, it weakens and slows hair regrowth and produces results that last longer and longer.
PHD WAXING
PhD stands for Professional Hygienic and Disposable, which is exactly what PhD waxing is all about!
The original, tried and tested tube applicator system, PhD is the safest wax system reducing the possibility of cross contamination between clients as there is no double-dipping of spatulas in wax pots.
With PhD the simple things make all the difference. PhD applicators have a gate mechanism to prevent wax from re-entering the tube and the tube is held at 45° angle in the booster chamber so there is no chance of any wax flow back.
As well as being hygienic, the PhD system also offers a professional, quick and easy wax, with a less painful hair removal for the client.
So, share your secret, not your wax.